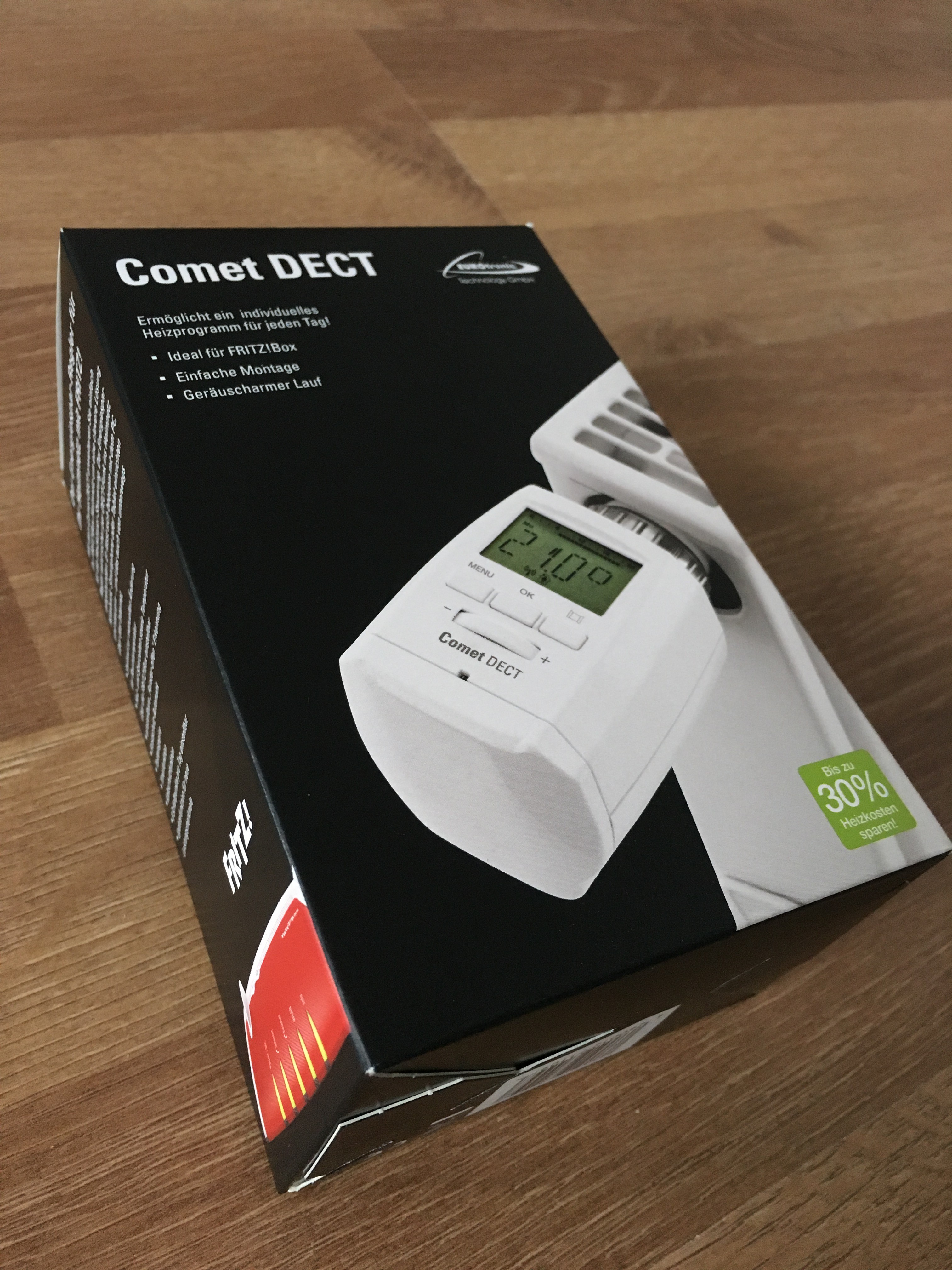 Smart Home oder das intelligente Zuhause – ein Begriff, der erst in den letzten Jahren vermehrt aufkam, wird jetzt hier mit unserem Test zu EUROtronic´s Comet DECT Heizungsthermostat auch zum ersten Mal bei hardwarepoint aufgegriffen. Hierbei handelt es sich um die Vernetzung und Automatisierung von verschiedensten Geräten zur Erhöhung des Komforts, der Sicherheit und/oder zum Sparen von Energie. Dazu gehören z.B. die Alarmanlage, die Beleuchtung, Fensterrollos/Jalousien, die Heizung/Belüftung und vieles mehr.
Vielen Dank an dieser Stelle an EUROtronic für die Bereitstellung des Testmusters.
In unserem Artikel werfen wir einen genaueren Blick auf das für rund 50€ erhältliche Comet DECT, ein programmierbares Thermostat, welches an einem handelsüblichen Heizkörper verbaut wird und mittels einer AVM Fritz!Box gesteuert werden kann. Das besondere hierbei, die Verbindung wird nicht wie bei Konkurrenzprodukten per Bluetooth oder WLAN aufgebaut, sondern, wie es der Name schon vermuten lässt, per DECT. Diese Technik ist eher aus dem Bereich der schnurlosen Telefone bekannt, sorgt aber zum einen für einen geringeren Stromverbrauch und für eine höhere Reichweite gegenüber beispielsweise einer WLAN Verbindung. Kompatible Fritz!Boxen haben die dazu passende DECT Basisstation bereits verbaut und ermöglichen auch den Fernzugriff per Internet.
Für die Bastler unter euch wird evtl. noch ein weiterer Artikel aus diesem Bereich auf hardwarepoint erscheinen, dann aber mit einer Kombination aus einem Comet Blue, einem Bluetooth Thermostat von EUROtronic und einem Raspberry Pi. Äußerlich sieht das Gerät sogar genauso aus, Giovanni ist aber gerade noch in der Entwicklungsphase d.h. am Programmieren und Austüfteln. Letztendlich soll ein ähnlicher Komfort ermöglicht werden, der allerdings gerade bei schon einem vorhandenem Raspberry Pi deutlich günstiger ist (um 20€) und deutlich mehr Einstellungsmöglichkeiten bietet.
Unboxing
Das Unboxing fällt dieses mal sehr kurz aus, da das Comet DECT sehr klein ist, ist auch die Verpackung entsprechend klein. Der Karton ist wie gewohnt mit den wichtigsten Features und Kenngrößen bedruckt und enthält auch direkt das Thermostat zusammen mit folgendem Zubehör, das Ganze ohne großen Verpackungsüberhang.
Lieferumfang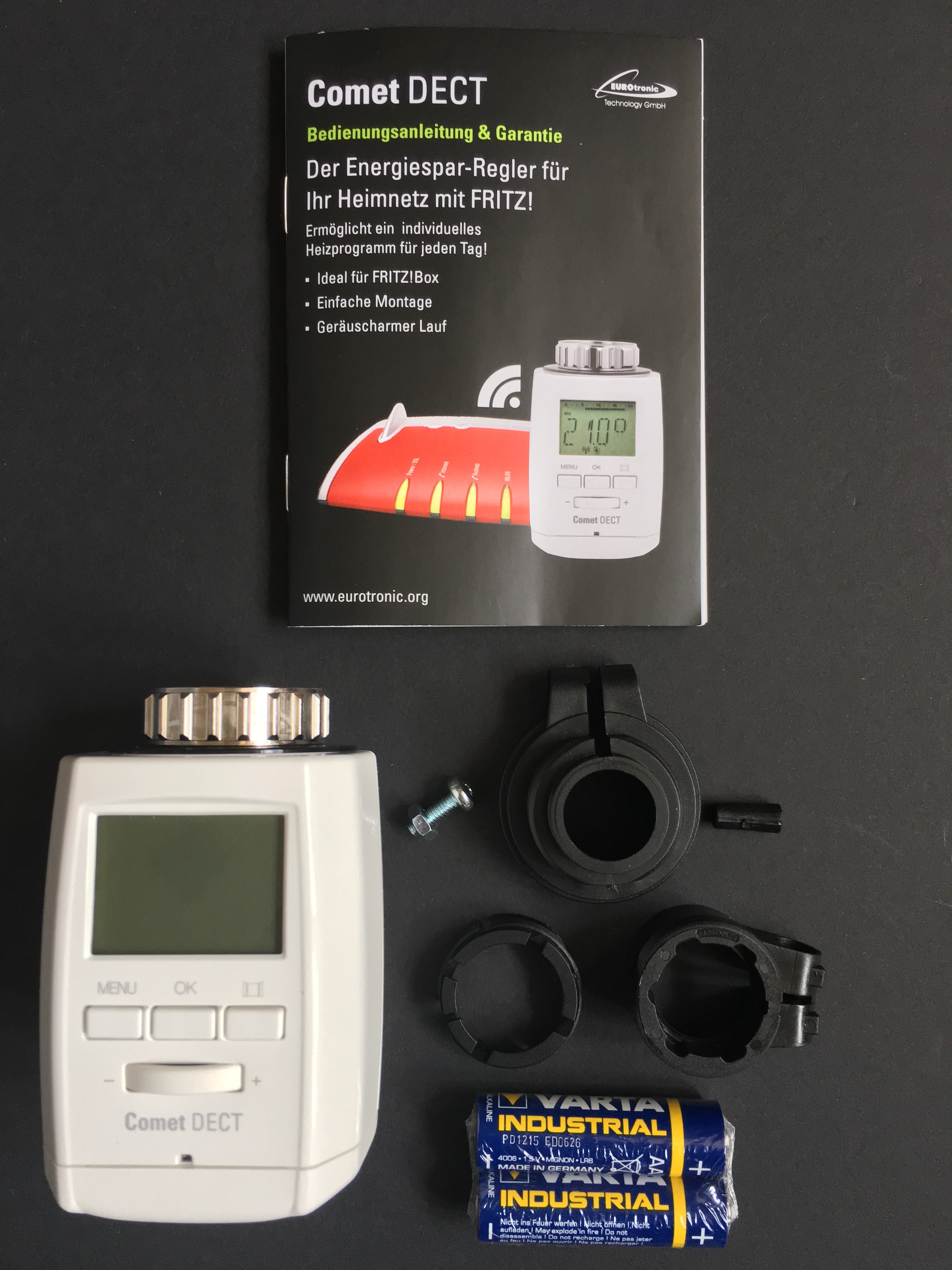 Das miterworbene Zubehör besteht aus einem Handbuch, einem Paar AA Batterien und drei Heizkörper-Adapter, sodass das Comet DECT an den gängigen Heizkörpern direkt "out of the Box" genutzt werden kann. Manche Adapter benötigen dabei die kleine Schraube zur Klemmung bzw. einen kleinen Pin (rechts auf dem Bild), der zur Verlängerung des Ventilstößels am Heizkörper dient. Wir konnten das Thermostat aber ganz ohne Adapter verwenden, mehr zur Installation im folgenden Kapitel.
Weitere Adapter kann man übrigens im EUROtronic Shop erwerben (ca. 8€ & aus Messing gefertigt), hier die gesamte Adapter Übersicht. Die Standard-Adapter sind zu folgenden Heizkörperventilen kompatibel: Heimeier,
Junkers Landys+Gyr, MNG, Honeywell, Braukmann Gewindemaß (M30x1,5), Oventrop (M30x1,5) Danfoss RA, RAV und RAVL.
Äußeres
Das Comet DECT besteht hauptsächlich aus cremeweißem Kuststoff, die Rückseite ist dabei nochmal in schwarz abgesetzt und beherbergt die aus Metall gefertigte Überwurfmutter. Im Allgemeinen ein sehr unauffälliges, schlichtes Design, was mit dem monochromen Display, drei Knöpfen und einem Stellrad abgerundet wird. Leider ist das Display nicht beleuchtet, was man bei der Preisklasse eigentlich schon erwarten könnte. Im Größenvergleich zu einem herkömmlichen Thermostat nimmt sich das Comet DECT nicht viel und ist nur minimal größer, wie auf den Bildern zu erkennen:
Inhaltsverzeichnis: