Im Rahmen unseres Benchtable Projekts haben wir das Dark Power Pro 10 in der 1000 Watt Variante von be quiet! bekommen und führen es natürlich auch gleich mal auf eine kleine Test-Runde aus. Ein erster Dank geht aber erst einmal nach Hamburg an be quiet! für das Benchtable Sponsoring und die damit einhergehende Bereitstellung des Samples.
Unboxing
Diesmal haben wir uns für unserer Unboxing im Freien eingefunden, es gibt ja immer weniger Sonnenstunden und das Licht wollten wir einfach mal auskosten. Hier also der kurze Clip mit dem kompletten Paketinhalt, den ihr mit dem Dark Power Pro 10 1000Watt erwerbt.
Lieferumfang
Das mitgelieferte Zubehör ist wirklich reichhaltig, zu folgendem Standard-Zubehör in Form von:
1x Handbuch
6x Kabelbinder
10x Klett-Kabelbinder
5x Daumenschrauben
5x Kreuzschlitzschrauben
1x Kaltgerätekabel
gesellt sich noch 4 weitere Kabel zum Anschluss von Lüftern und der Overclocking Key einmal als Jumper und einmal als PCI Blende mit Schalter hinzu, wobei wir den OC  Key später bei den Features genauer klären werden.
Da es sich bei dem Dark Power Pro 10 um ein modulares Netzteil handelt, dürfen die Stromkabel natürlich nicht fehlen. Hiervon ist für jede PC Konfiguration das passende Kabel dabei, denn es sind mehr Kabel im Lieferumfang als am Netzteil angeschlossen werden können. Das Kabelmanagement kann so optimal auf den Computer angepasst werden und man hat nach Möglichkeit keinen oder nur wenige offene und nicht benutzte Stecker im System, die den Luftfluss und die Optik stören – sehr lobenswert.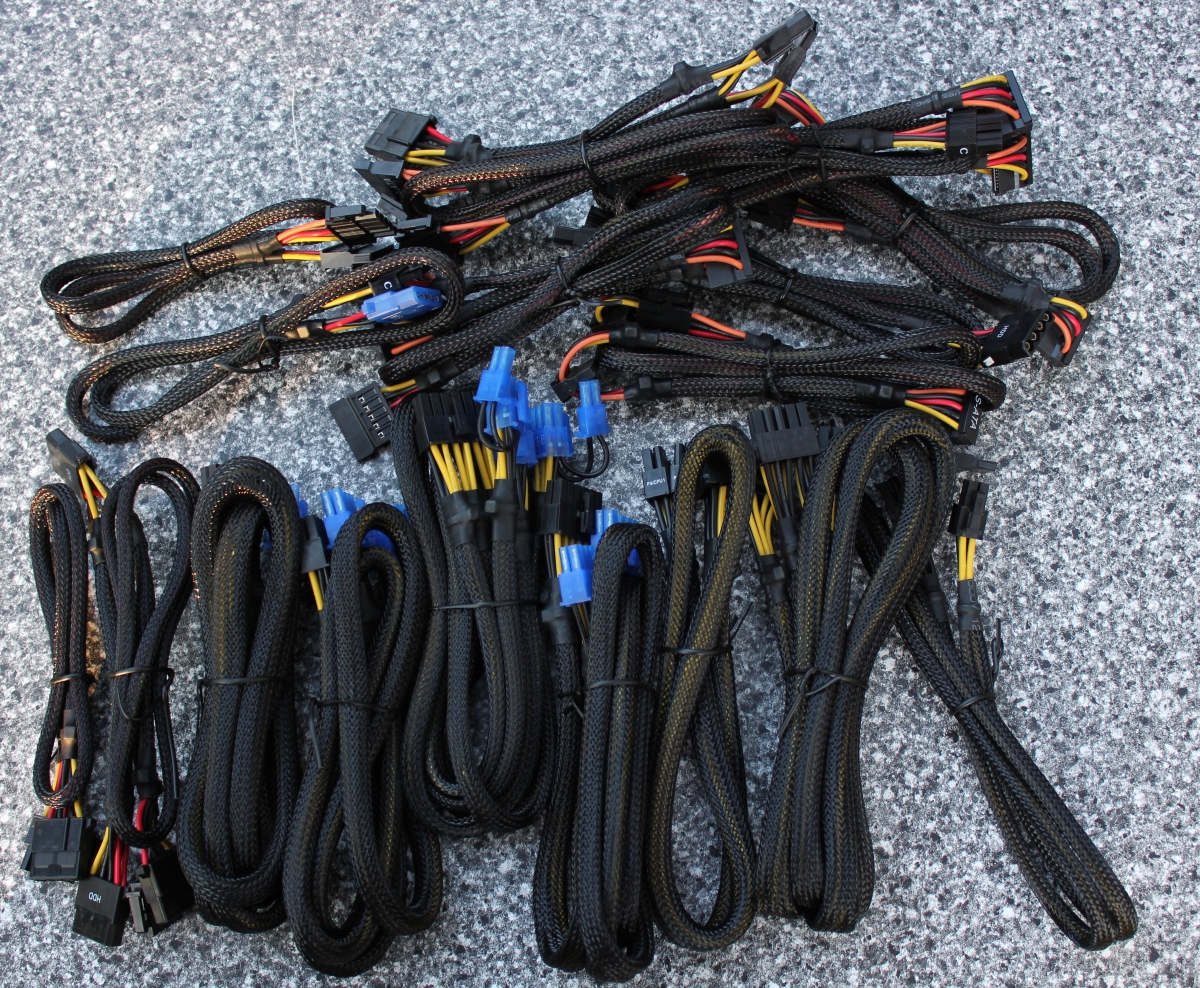 Hier haben wir eine kleine Übersicht über alle Varianten, inklusive verbauter Stecker und Längen:
Mainboard
[table];Anschlüsse;Gesamtlänge
1.;20+4 Pin ATX Stecker (nicht abnehmbar);600 mm
2.; 1x Molex;600 mm
[/table]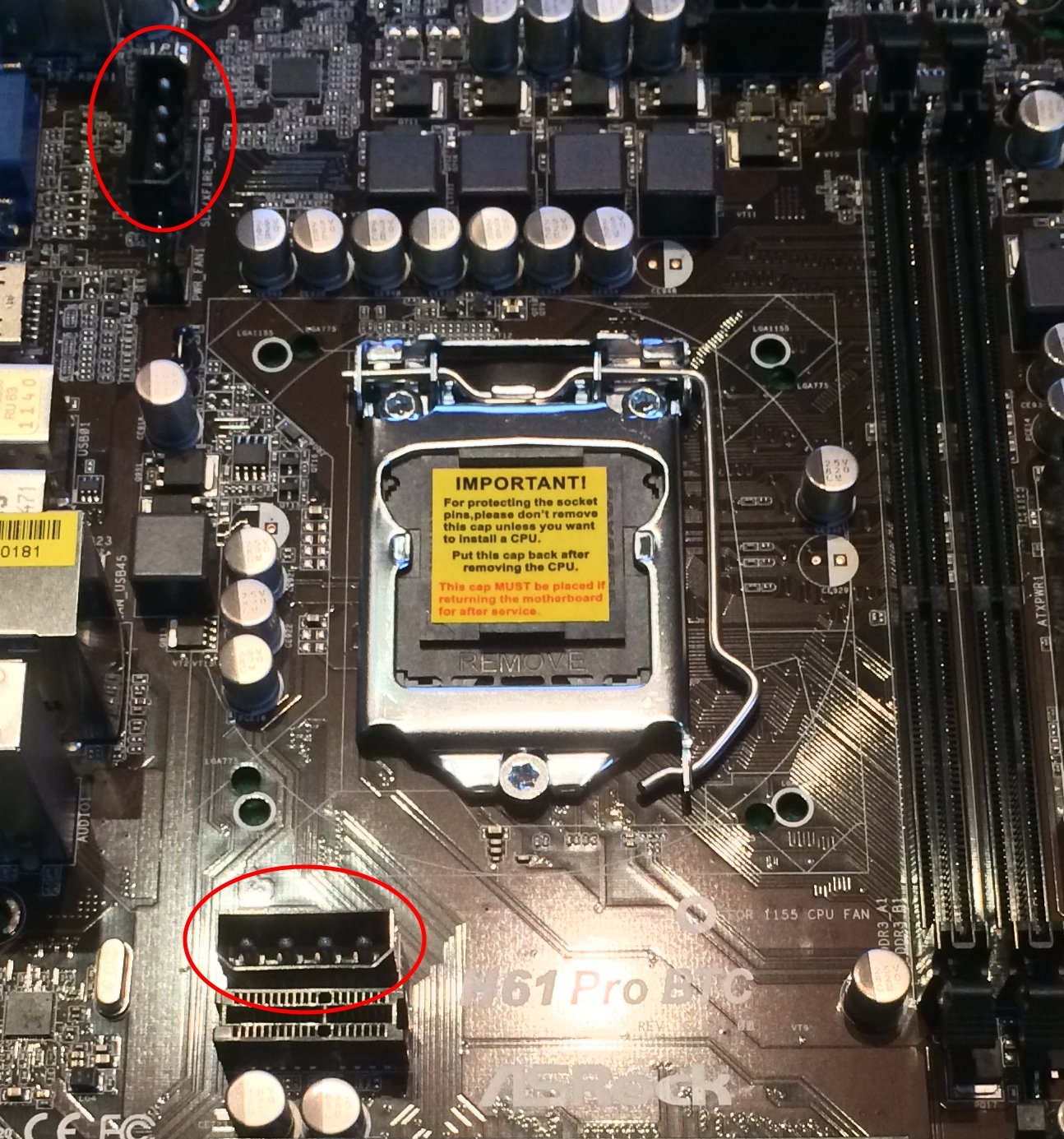 Der Molex Anschluss kann hier bei manchen Mainboards genutzt werden, um die PCIe Stromversorgung zusätzlich zu stabilisieren. Dieses Feature ist gerade bei Overclocking Versuchen oder wenn viele Grafikkarten in einem System verbaut werden interessant. Beispielsweise wie bei unserem Mining Mainboard, dem ASRock H61 Pro BTC.
CPU
[table];Anschlüsse;Gesamtlänge
1.;1x 8 Pin EPS, 1x 4+4 Pin EPS;705 mm
2.;1x 4+4 Pin EPS;705 mm
3.;1x 4 Pin EPS; 705 mm
[/table]
Laufwerke
[table];Anschlüsse;Gesamtlänge
1.;2x SATA, 2x Molex, 1x FDD;1200 mm
2.;4x SATA;1050 mm
3.;4x SATA;1050 mm
4.;3x SATA;900 mm
5.;3x SATA;900 mm
6.;3x Molex;900 mm
7.;2x Molex, 1x FDD;900 mm
8.;1x SATA;500 mm
9.;1x Molex;500 mm
[/table]
Grafikkarten
[table];Anschlüsse;Gesamtlänge
1.;2x 6+2 Pin PCIe;600 mm
2.;2x 6+2 Pin PCIe;600 mm
3.;2x 6+2 Pin PCIe;600 mm
4.;2x 6+2 Pin PCIe, 1x 6 Pin PCIe;600 mm
[/table]
Inhaltsverzeichnis: