The hwp Benchtable – our first project with a complete custom loop watercooling system. The fascination "watercooling" got us right from the beginning. Measure everything, search for the right parts that meets our requirements like the coolingpower, the noise and also the looks. The actual build process was a complete new and exciting experience, too.
In the end our loop consist out of Alphacool radiators, EKWB pump, reservoir and CPU block and all these parts are connected through Monsoon fittings. We chosen these products mostly because of the quality. But especially the Monsoon parts because of the unique design and also because Monsoon is the only company with such a wide range of colors through their whole lineup.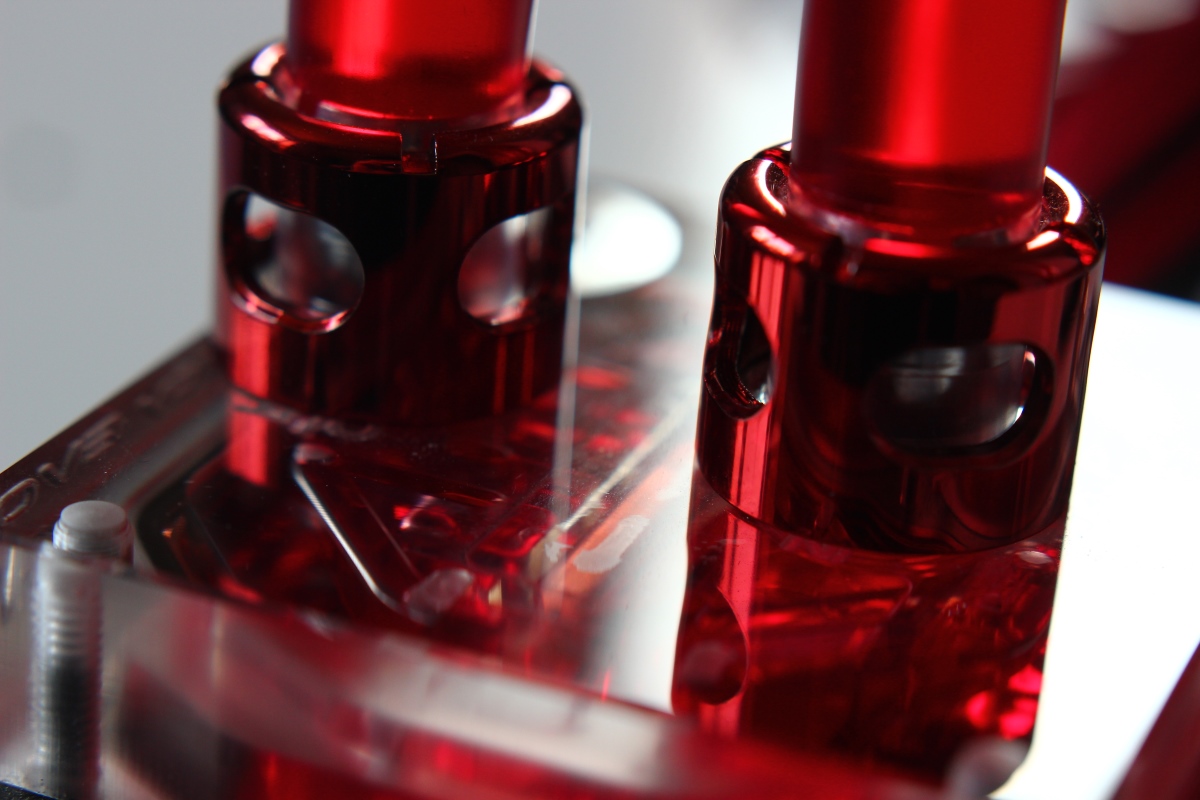 I´m proud to had the opportunity to work with the boys and girls over at Monsoon and that they supported us with parts for the benchtable. Now I´d like to present you the newest project we did together. Hardwarepoint had the honor to interview the modder "Boxgods" from Monsoon. We asked 10 questions and he gives you and me a much deeper and closer look onto the Monsoon-Family. How everything started, whats up next and lots more.
Finally I can tell you more about upcoming Monsoon products, because I already had renderings and information for month but no permission to publish it…so lets start with the first question:
1. Monsoon was founded by two families a few years ago. Since when did the brand begin exactly? How did you get to know each other and when was the idea born to design and manufacture pc water cooling hardware?
It has been about 5 years now since we formed Monsoon. As you mentioned, we are two "Mom and Pops" with one family in South Texas and the other in Guangdong, China where our factory is. Water cooling and modding products were a natural for me as I have been modding since about 1998 and spent a few years running a review site and as a "pro" modder.
2. Were there any other projects you did together before?
Yes. I started designing products for other companies in the water cooling industry and met Bruce through those contacts–he was fresh out of university and working for a Chinese manufacturing "clearing house" at the time. He is one of the brightest and most decent men I have ever met and I knew right away I wanted him as a partner if I ever started my own firm.
My design work for companies like Danger Den grew rapidly into overseeing manufacturing and before long, Monsoon was formed. Since then, we have expanded into a fairly diverse range of products–boat propellers to trading card deck boxes. We also still design and manufacture quite a few water cooling and case modding products for other companies and brands.
3. From which business did you come from? I mean did you do similar work with your employers before or did you self-teach everything you needed to know for the designing, manufacturing and selling?
I am actually the only one of our group who is self taught–the rest are a well educated lot. My background is in business and engineering–I like to describe myself as a "smart hands" guy in that I have been building things my whole life– from airplanes to houses. My Father was a cabinet maker and draftsman so I was exposed to the trades very early and I spent my formative years in Germany surrounded by their passion for design and detail.
4. At the moment you offer the free center compression fittings as your only hose connection and the hardline series for acrylic tubes. Were there any other concepts which didn´t make it to the final stage?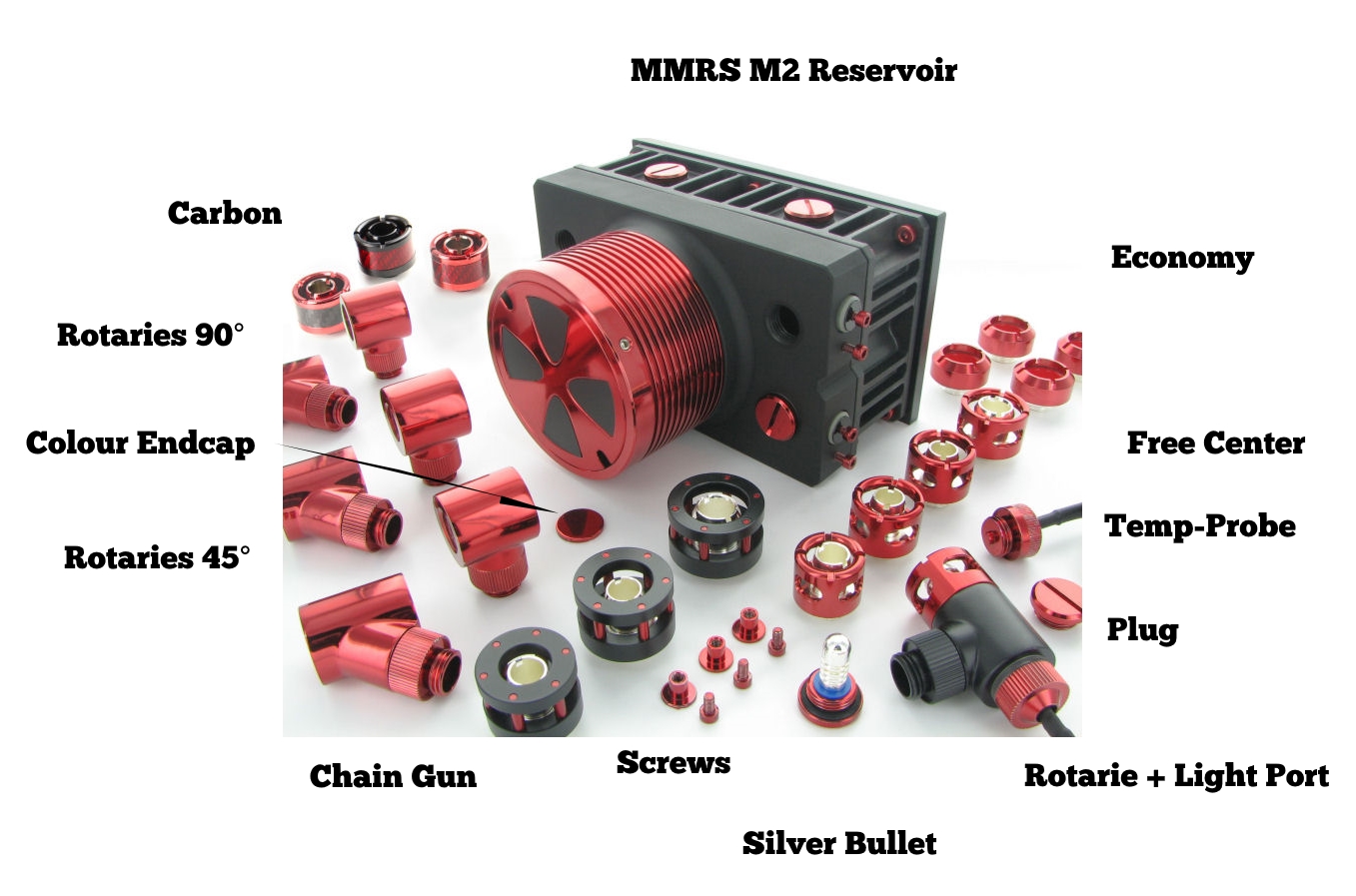 Actually, our fittings are modular–a little complicated to describe, but the Free Centers, Chain Guns, and Carbons are interchangeable across styles and tube types. We also have a line of economy fittings for hard tube which is about to undergo a revision shortly. A full line of rotaries and light port rotaries, a full range of specialty plugs, our M2 reservoirs, the new Modular Tube Reservoirs, a few different D5 pumps, acrylic and PETG tube, CCFL light kits, LED kits, lots of hardware stuff like isolation mounts and various screws…a bunch of other stuff I can't think of off hand.
5. Could we expect more/new water cooling products in the coming months?
Maybe cpu/gpu blocks, pump housings,reservoirs, new fittings or special plugs?
As I mentioned, we are just now launching the MMRS tube reservoir line. It includes two different D5 pump tops. We already make LED plugs, Temp plugs, Silver Bullet plugs, and Standard plugs…not sure if there is anything left that a plug can do that we don't already cover =)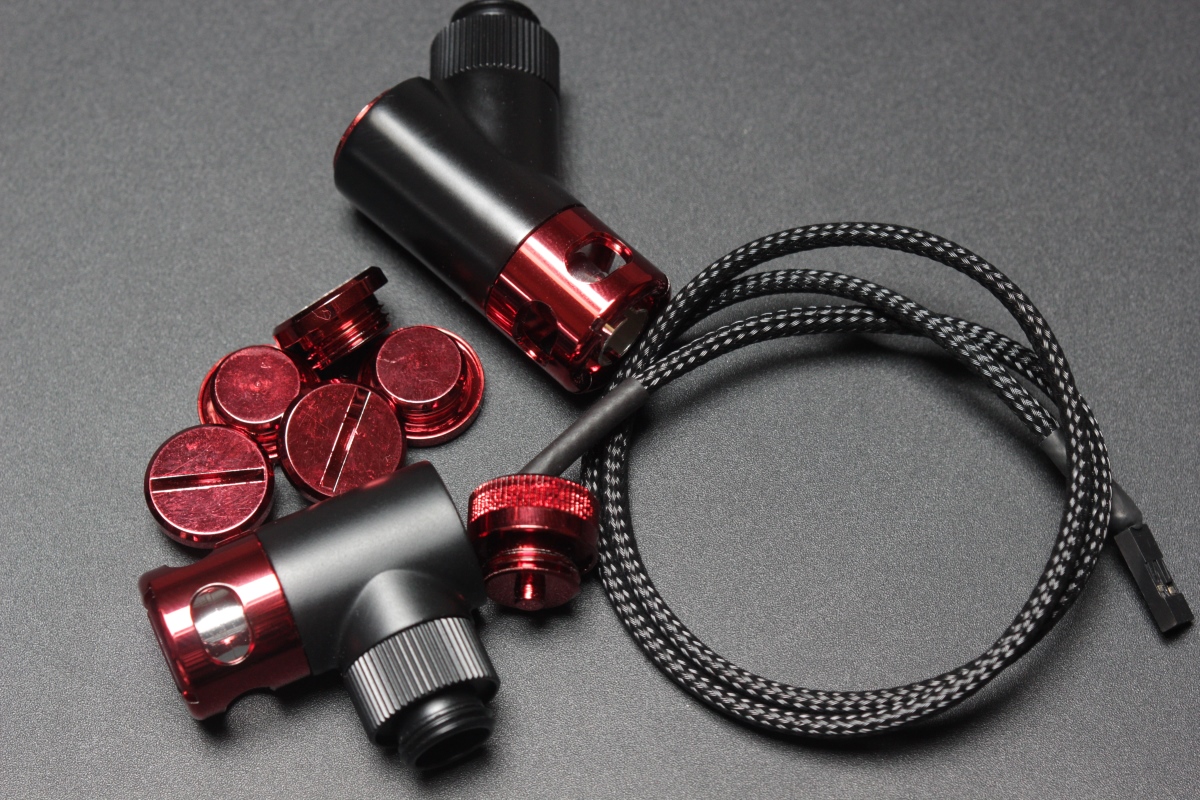 MMRS tube reservoir line Features:

The tube (60 mm diameter) and Tension Rods come in 6 lengths: 50 mm (2 inch) to 300 mm (12 inch) in 50 mm (2 inch) increments. End caps come with zero, one, or three ports, and with or without side facing ports. Side ports can also be added in the middle like on the pump. They don't have to be centered–you could use a 50mm tube and a 200mm tub–or any combination you want. You can also use multiple side port parts if you want more than two tube segments.

There is a pump end for the D5 as shown and a stand alone D5 with the same aesthetic.

External round and square fill / drain ports that can be connected directly to a reservoir or used as satellites. (These are so clean and handy)
There are 4 different mounting options–12mm low profile "grasshopper mount", a 25 mm and a 50 mm. Also the fill / drain ports allow you to suspend a reservoir anywhere and facing any direction. The standard mounts (the first three) allow 60 degrees of rotation either direction and you can rotate the ports themselves in 60 degree increments.
Twin CCFL bulbs mount behind the reservoirs for a ton of light without seeing the bulbs. Light lengths and mounting are matched to tube segments so you can mix and match–if you had a 3 tube segment reservoir for example and your theme was Superman you could make the center segment blue and the two outer segments red.


There is even a part to couple a tube reservoir to our Series 2 Dual Bay reservoirs.

These are heavy duty top quality molded PVC parts with stainless tension rods. 
Available colors: All 10 Monsoon colors; Black chrome, Chrome, White, Blue, Red, Matte Black, Orange, Green, Purple and Gold.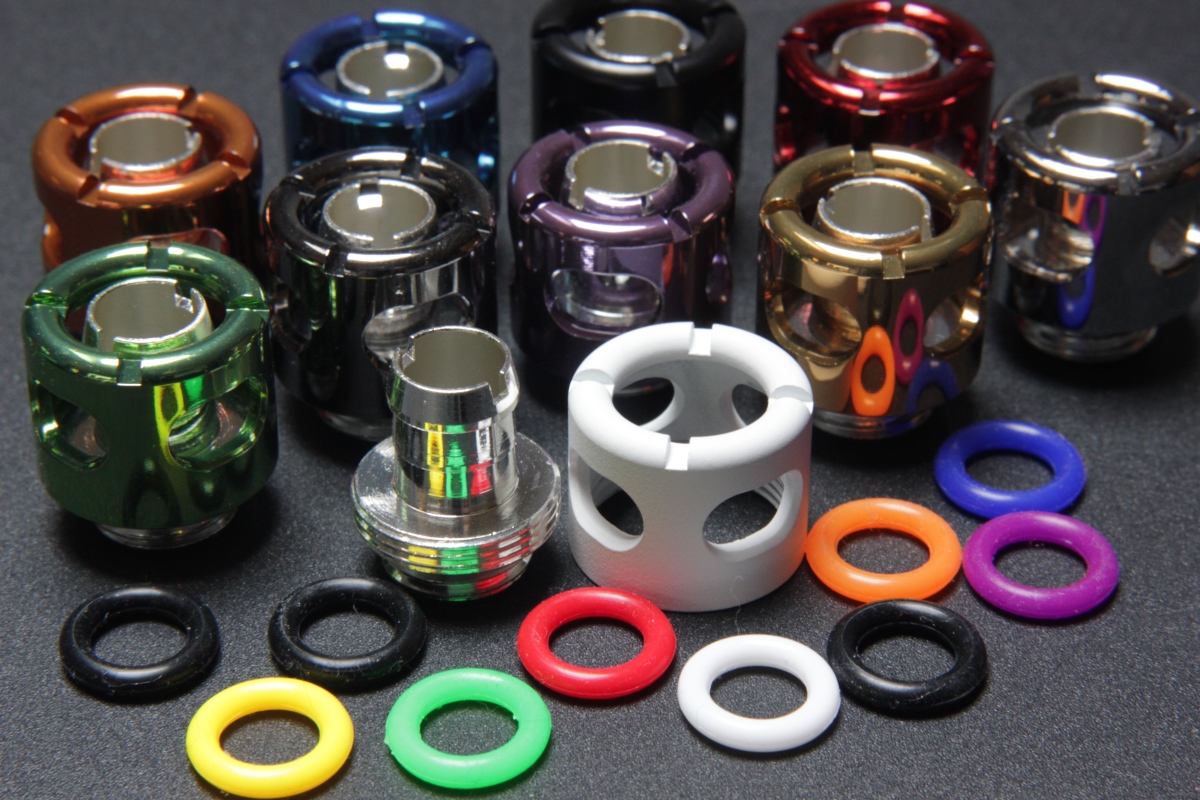 The goal is to have all the individual components sold individually so each builder can assemble exactly the reservoir he needs for his particular build. Think Lego's and being able to make a reservoir that fits what you are trying to do rather than being forced to bend your build to fit an off the shelf one size fits all reservoir.
I have a killer radiator design that I have had done for several years but never seem to get around to. I have designed several micro fin CPU and GPU blocks for other companies and we have even handled some of the manufacturing so it is certainly within our capabilities. How I would find the time is another story.
6. You told us that you moved the factory to a new and larger location at the end of 2014. How we could imagine such kind of factory – heavy machinery all over the place?
I believe we are actually on our fourth facility now. Hopefully this one will be large enough to last us a while.As far as the space goes, it is nothing too fancy–especially by European standards. Heavy equipment is also relative–compared to an automotive factory–no. Compared to my studio here in Texas or your average garage–yes =)
Depending on what orders are going out and when, there are usually 8 to 10 people assembling or packaging. Mostly women. There are lots of children running around as we are very much a family business. Bruce's Mother cooks for our workers and his Father operates some of the machinery–sand blasters and annealing ovens, etc. We have one full time engineer on staff who translates my CAD files into Chinese and programs tool paths for the various machines and, when we get busy, Bruce's brother who is an engineer with Foxconn, helps out.
Even though they are half a world away from us we are all very close and spend a lot of time together. My wife and I spent 20 days in China a few years back attending their wedding and last year my Goddaughter, Amanda, arrived.
7. Monsoon stands for premium, well made and innovative products. What is
the feedback from the community? Do you get only positive comments and emails or are there some not so good ones?
I am the only person in our company who handles emails about technical issues and RMA's so I get lots of feedback both good and bad. I answer ever single email–again good or bad. Our RMA rate is under 1% so not TOO many angry emails. I am honestly surprised by how many people stop and take the time to write kind emails and they always seem to come when I am having a really hard day.
8. How long did it take to develop an entire product line–for example, the free compression fittings from scratch to the first produced unit?
Were there any problems causing you sleepless nights?
As a small company, we are pretty nimble, but it still feels like it takes forever. Our development cycle varies depending on which manufacturing processes will be involved. For example, a fitting is fairly basic CNC machining while a reservoir might have machined parts and molded parts. Mold tooling takes a few months. I design all of the tooling, jigs, fixtures, and test platforms as well as the packaging, so changes anywhere along that chain can have a knock on effect and everyone else ends up waiting on me.
The Free Center fittings went from concept to production run in about 60 days. They took extra time because there are four sizes and, as I mentioned earlier, they are modular so I had to develop the Chain Guns and Carbons at the same time–even though those would not be released until later. The M2 Reservoir was more complicated and had lots of different processes including a very intricate molded center section so it took longer–about 120 days from concept to production. Part of that was time I spent teaching myself multi-section molds as it could not be molded with just two "halves".
Problems ALWAYS come up no matter how hard you work at getting it perfect. Just a fact of life. The best thing you can do is try to see mistakes as an opportunity to support your customers and improve. When there is a mistake, I make sure to start every email with "I apologize for this mistake" and when I write that, I really mean it. An example would be the lock collars used in our Hard Line fittings. Originally, they were molded from acrylic and for 99% of our customers they worked fine. The other one percent was having problems with cracking that we really couldn't reproduce to figure out what was causing the issue. We immediately made the switch from Acrylic to Polycarbonate for the collars which is much stronger and doesn't crack very easily and from that point on we have not had a single customer issue with cracking.
With only 1% of customers reporting the cracking issue, I could have easily just ignored the situation but choices like that are what lead to the sleepless nights you mentioned. If you're the guy who has a cracked lock collar you don't really care that 99% of the other guys are happy as clams. I know how I would feel if I was that guy so we destroyed all of the acrylic collars we had in stock and made the switch. And I sleep just fine =)
9. What hardware do you use in your own computers? Do you have highly modded,with water cooling equipped machines?
I have built lots of $10,000 gaming machines for customers over the years but these days I spend most of my time on a workstation running nVidia Quadro for Solidworks. I am also weird…I have a thing for wall mounted computers so there are several machines mounted to the wall behind my desk…out in the open on specially machined plates. As for gaming, I still spend an embarrassing amount of time playing CIV.
10. And at last: Is there anything else you´d like to tell the community?
First and foremost I would like to say how much we appreciate your patronage. It is no small thing that you guys have kept roofs over our heads and food on the tables of half a dozen families from Monsoon over the last five years–especially in an economy that left a lot of people stranded. As a small company with zero advertising budget, we literally live or die on word of mouth- so your taking the time to "tell a friend" as so many of you have done, means a lot to us.
Thank you.
Thank you for your time and this detailed interview. We also appreciate your way you interact with the community and I think there is no need to say something about your outstanding products.
Just stay as you are – one big family!
If you have additional questions write them into the comments, maybe we could answer a few of them in a community edition.