Den letzten Test zum Thema CPU Kühler haben wir im Bereich der High End Modelle ausgetragen. Für viele stellt diese Klasse aber allein schon vom Preis keinen wirklichen Nutzen da. Deshalb jetzt ein Vergleich etwas preisgünstigerer Modelle, wobei man sie durchaus noch als sehr potent bezeichnen oder sogar im unteren High End Bereich ansiedeln kann.



Noctua NH-U14S gegen be quiet! Dark Rock 3. Zwei CPU Kühler in ungefähr der selben Preisregion mit ähnlichem Konstruktionsstil. Die Vorzüge der einzelnen Modelle und welchen wir euch empfehlen lest ihr auf den folgenden Seiten, ein erster Dank geht hier aber erstmal an die beiden Hersteller für die Bereitstellung der 2 Testsamples.
Verpackung
Äußerlich sind beide Verpackungen bis auf das Farbdesign nahezu identisch. Es finden sich alle nötigen Angaben zum Kühler und dessen Lüfter, sowie welches zusätzliche Zubehör vorhanden ist. Die besonderen Features der Testprobanden sind jeweils in mehreren Sprache aufgedruckt und machen im Ladenregal eine gute Figur. Be quiet! setzt dabei auf ein dunkles Design, alles ist in schwarz bzw. grau gehalten und unterstreicht den "Silent-Gedanken". Bei Noctua ist das Verpackungsdesign schon deutlich heller, aber auch hier werden natürlich die Firmenfarben aufgegriffen. Der Karton ist deshalb in weiß und braun gehalten und zeigt wie auch schon beim NH-D15 schemenhafte Nahaufnahmen des Kühlers.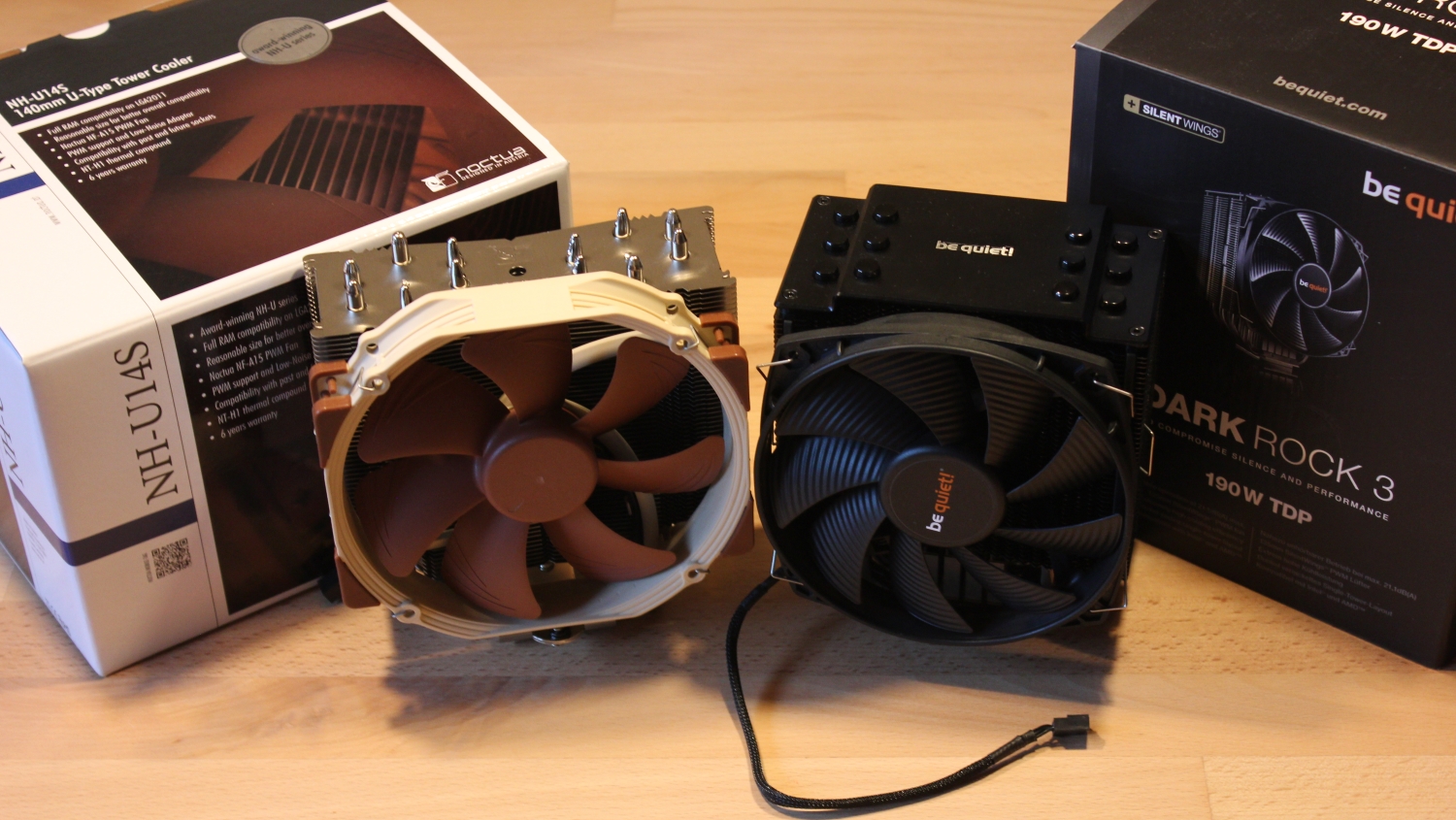 Im Inneren setzt be quiet! auf einen Schaumstoffschutz und verpackt das komplette Zubehör in einer kleinen Pappschachtel – alles kommt so natürlich bestens geschützt und vor allem unbeschadet zu euch nach Hause. Noctua verpackt den Kühler komplett in einzelne, mit ihrem Inhalt beschriftete Pappkartons. So gibt es eine Intel Mounting Box, eine AMD Mounting Box, eine Zubehör Box und letztendlich ein Karton mit dem Kühlkörper selber. Bei beiden Modellen sind die Lüfter bereits am Kühler vormontiert. Genaueres seht ihr aber auch in den unboxing Videos:
Unboxing
NH-U14S
Dark Rock 3
Inhaltsverzeichnis: